HELP University's Faculty of Business, Accounting and Economics has constantly been on the forefront in developing the next generation of adaptable, creative problem solvers and socially responsible business leaders. HELP business graduates are molded into becoming ambitious, sharp-thinking leaders with diverse perspectives, experiences and knowledge.
The Faculty once again celebrated another year of success and academic excellence with its latest batch of graduates during HELP University's 30th Convocation. One of the Faculty's graduates, Ong Wu Sheng, a First Class Honours graduate with a Bachelor of Business in Accounting, was a proud recipient of the President's Award. The award is presented to graduates with the most outstanding academic achievements at the departmental level.
Ong achieved 11As in his SPM and decided to pursue a Foundation in Arts programme at HELP's Matriculation Centre. Upon completing his Foundation programme, he chose to pursue a Bachelor of Business (Accounting) at HELP's Business Faculty. During his course of study at HELP, he was awarded numerous awards for his consistent outstanding academic performances.
Ong was also one of the few chosen to represent the Faculty as a Business Student Ambassador in various events during his final year of studies with the Faculty. He was also the President of the Investment Club in the Faculty and has represented the University in various competitions at the national level. He graduated in April 2018 with a noted and prestigious distinction of being one of the 10 President's Award winners.
"I chose to study the Bachelor of Business (Accounting) because it is particularly related to what I am doing right now. I am an Audit Associate at KPMG, so my studies fits my career," said Ong. "In terms of knowledge, I would say that studying at HELP has definitely help geared me towards my current career goals. I also had plenty of opportunities to be more confident and to speak in public. My soft skills such as interpersonal communication have grown tremendously."
When asked what advice he would give to those whom are still thinking of enrolling at HELP's Business Faculty, Ong said that they should do it without hesitation because the Faculty is a clear choice as students are able to develop themselves at the university. He summed up his studying experiences at HELP as nothing short of fun, fruitful and memorable because of the relationships he had developed with his classmates and with his mentors.
The success of the President's Award winner and the large number of business graduates are a testament to the high quality and standards of the Faculty. The Faculty is one of the largest business schools in the region with a 2500 strong undergraduate student cohort, and is renowned for its business, accounting, and financial programmes. HELP's business graduates are well received by various industries and many are head hunted by multi-national companies within six months of graduation.
HELP's Bachelor of Business (Accounting) (Honours) degree is recognised by many international professional accounting bodies. Not all universities in this world despite their status, will have their accounting degrees received maximum exemptions or accredited by the Institute of Chartered Accountants in England and Wales (ICAEW), Association of Chartered Certified Accountants (ACCA) and Certified Practising Accountant Australia (CPA Australia).
In other exciting areas of note, the Faculty has on countless occasions produced numerous outstanding graduates and students who obtain top scholarships from prestigious foreign universities. This year was no exception when seven of the Faculty's business students were awarded the University of Queensland (UQ) scholarship for the February intake, a new record compared to last year's three students.
The seven scholarship holders were Tong Boey, Yap Kung Jien, Chan Tze Hen, Mohammad Idri bin Abdul Rahim, Nasif Arefin, Lee Jong Min and Ok Juyeon. The last three were foreign students from Bangladesh and South Korea respectively. The scholarship allows them to receive up to a 100% waiver of tuition fees for their final year of studies at the Faculty of Business, Economics and Law, UQ.
Yap Kung Jien, a former student of Chong Hwa Independent High School, Kuala Lumpur, is one of the UQ scholarship holders. The UQ scholarship is the most recent in his long line of academic achievements. He has scored 7As in both his UEC and SPM examinations and is also a recipient of the Chong Hwa-HELP University Scholarship to pursue a Bachelor of Business (Accounting) (Honours) degree at HELP University.
"I find the Accounting programme at HELP to be remarkable and valuable as it has broadened my knowledge and vision. The lecturers, especially Mr Steven Toh and Ms Liew Huey Min have been most helpful and friendly, and I would like to express my gratitude to them for their guidance," said Yap.
Yap is currently pursuing an Accounting and Finance degree at UQ. "The scholarship granted to me will greatly reduce the financial burden of my family, allowing me to invest in myself to pursue a master degree programme in the future. I plan to become a Partner in one of the Big 4 accounting firms."
HELP has always been steadfast in maintaining its long tradition of producing outstanding students and serves as a gateway to top Australian universities such as UQ, University of Melbourne, Australian National University, University of New South Wales, University of Western Australia, Macquarie University and many more.
In 2017, out of 80 business students who went to UQ, seven were awarded scholarships. HELP University is the only university in the world to have a 2+1 articulation programme with UQ, a member of the Group of 8 Universities (Go8) in Australia, a coalition of world-leading research intensive Australian universities.
HELP's Business programmes are offered in the Subang 2 campus, as well as in the Damansara Heights campus. For more information on HELP University's Business programmes, please visit our website www.help.edu.my or call us at 03-2716 2000.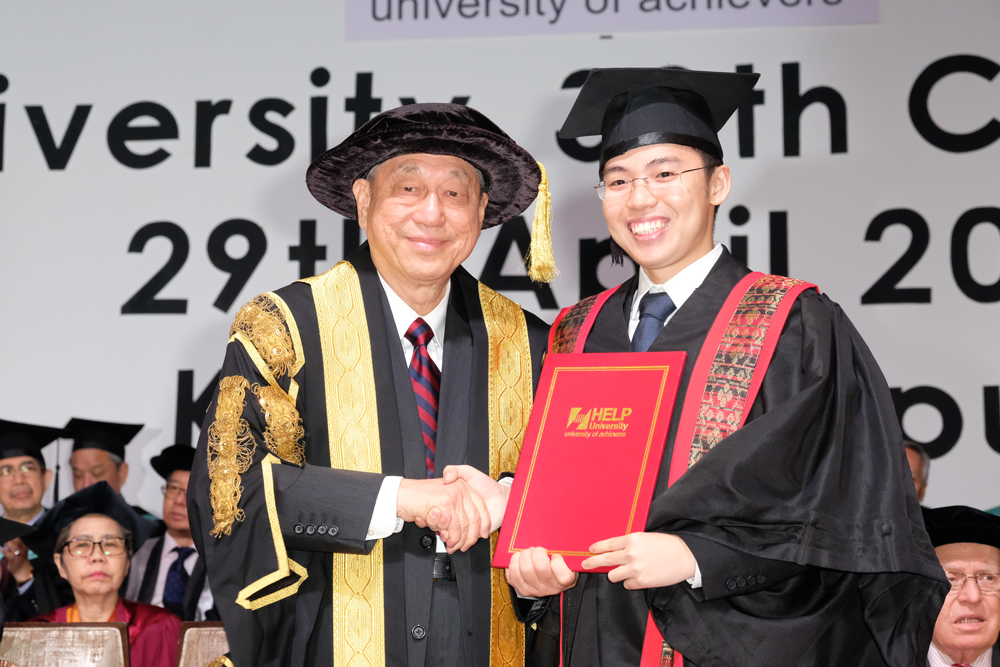 Professor Datuk Dr Paul Chan Tuck Hoong conferred the Bachelor of Business (Accounting) degree to HELP's President's Award winner, Ong Wu Sheng at the HELP University 30th Convocation.