Pearson Edexcel International Advanced Levels
Duration:
1.5 years
Intakes:
January, March, July
Campus:
HELP Damansara
Level of Study:
Pre-University
Faculty:
Department of A-Levels
Course Code:
—
Edexcel International Advanced Levels is a new suite of A level qualifications developed for international centres. With a modular structure, our new suite of International Advanced Levels have examination windows in January and June of each year, allowing students to finish their course in January if they need to, for entry to local and international universities. Please note Law and English Literature will continue to be examined in June of each year only.
HELP A-Level Scholarship Scheme 2020
HELP A-Levels is a Winner! Whether you score 1 A or 10 As we have a Scholarship just for you!
Our A-Level Scholarship Scheme 2020 gets you into the most affordable, established and globally recognised pre-university programme with renowned for its teaching quality.
Our A Team of lecturers with proven track records will nurture you for admission to:
World ranked universities like Cambridge, Oxford, Harvard, Stanford, Princeton, MIT, Australian National University, LSE, Imperial College London, King's College London
Leading private and public universities in Malaysia.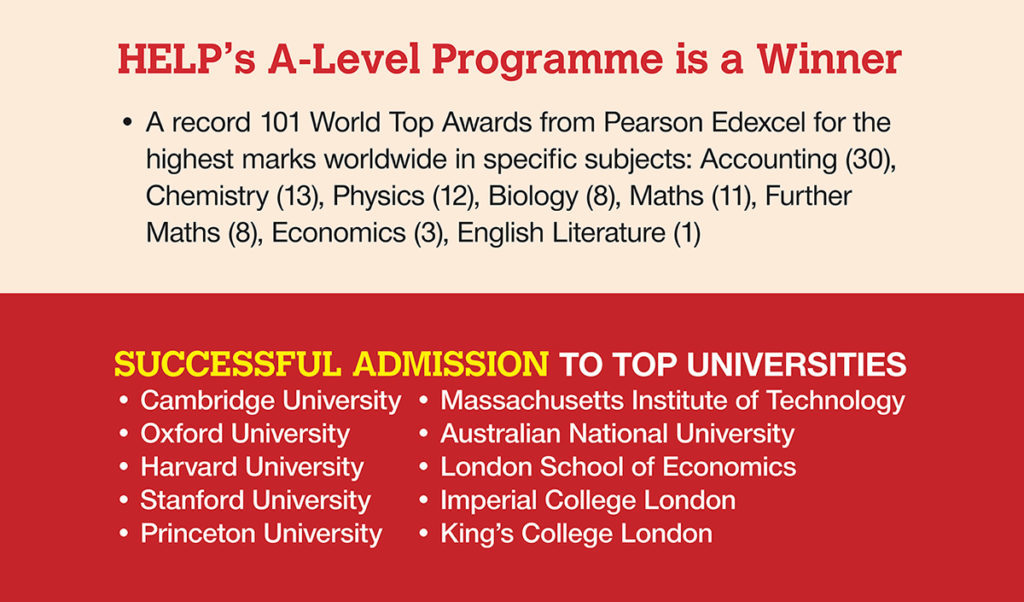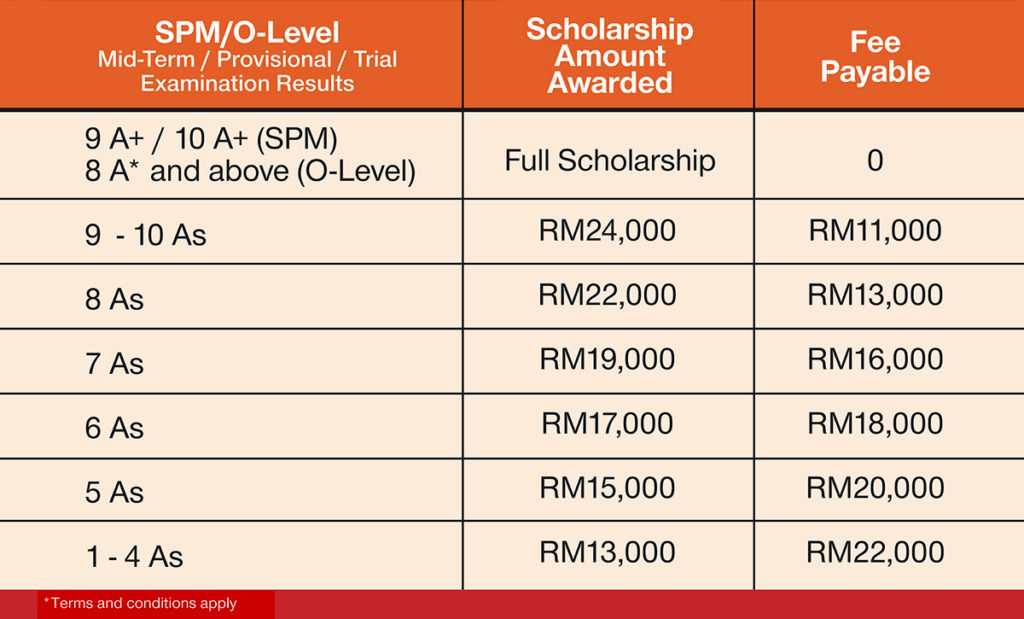 RM 35,000 (4 subjects), RM 28,000 (3 subjects)
MINIMUM 3 OR MAXIMUM 4
Mathematics

Chemistry or Law

Physics or Accounting

Biology or Economics

Further Mathematics or English Literature
Applicants must have one of the following Entry requirements:
SPM / O-Level:
5 Credits (with pass in Bahasa Melayu & Sejarah for SPM student)
University of Cambridge

University of Oxford

The London School of Economics and Political Science

University College London

Imperial College London

King's College London

Thr University of Edinburgh

Royal College of Surgeons in Ireland

The University of Hong Kong

National University of Singapore
The University of Melbourne

Austrialian National University

Havard University

Stanford University

Princetion University

The University of Chicago

University of California

Massachusetts Institute of Technology

University College Dublin

and many more
Mathematics, Further Mathematics, Economics, Accounting, Law, Biology, Chemistry, Physics.
This modular system aims to test you on the application of each unit, and hence a student can choose to repeat a single unit on its own, without having to repeat an entire level. Only the highest mark scored in any attempt will automatically be taken into account.
The Cambridge Board, on the other hand, is linear-based. Students attempt to take the examinations in two stages, AS & A2 Level. Students unsatisfied with any of their individual units must re-sit the entire level, i.e. either AS or A2, and only the last score will automatically be taken into account.
Edexcel International Advanced Level qualifications have been written to the same high standards as our Edexcel GCEs and are being recognised as providing progression to higher education by universities around the world.
Students can re-sit each unit once before certification.
Yes. The new International Advanced Level will have an AS/A2 split, therefore AS can either be taken as a stand alone qualification or used as a stage on the way to completing an Advanced Level.
No. IAL qualifications are only available to students and centres outside the UK.
Why A-Levels @ HELP?
HELP has coached A-Level students to enter the world's top universities
Holder of the highest record 101 World Top Awards together with another 37 National Awards
Unique Pastoral Care: each student is assigned to a mentor who monitors and guides him or her on academic performance and provides advice on applications for university admission.
..and many more