Cambridge Assessment International Education
Duration:
1.5 years
Intakes:
January, March, July
Campus:
HELP Damansara
Level of Study:
Pre-University
Faculty:
Department of A-Levels
Course Code:
—
CAIE is a part of the Cambridge Assessment Group (UCLES) and a not-for-profit organisation.
Cambridge International AS and A Levels are taken by over 175 000 students in more than 125 countries every year.
There are 350 000 entries for Cambridge International A Level annually and growing.
HELP A-Level Scholarship Scheme 2020
HELP A-Levels is a Winner! Whether you score 1 A or 10 As we have a Scholarship just for you!


Our A-Level Scholarship Scheme 2020 gets you into the most affordable, established and globally recognised pre-university programme with renowned for its teaching quality.
Our A Team of lecturers with proven track records will nurture you for admission to:


World ranked universities like Cambridge, Oxford, Harvard, Stanford, Princeton, MIT, Australian National University, LSE, Imperial College London, King's College London
Leading private and public universities in Malaysia.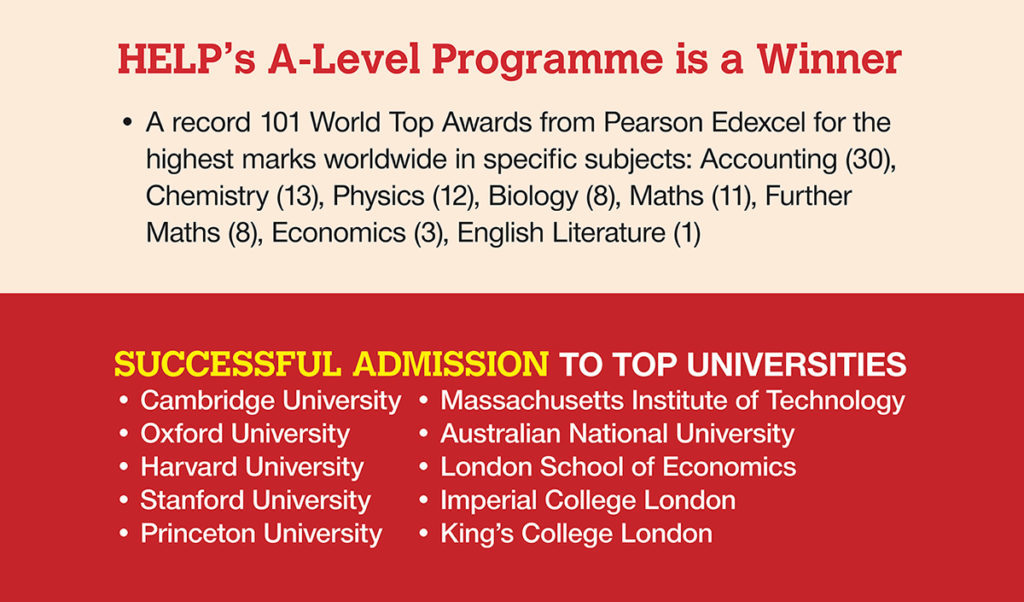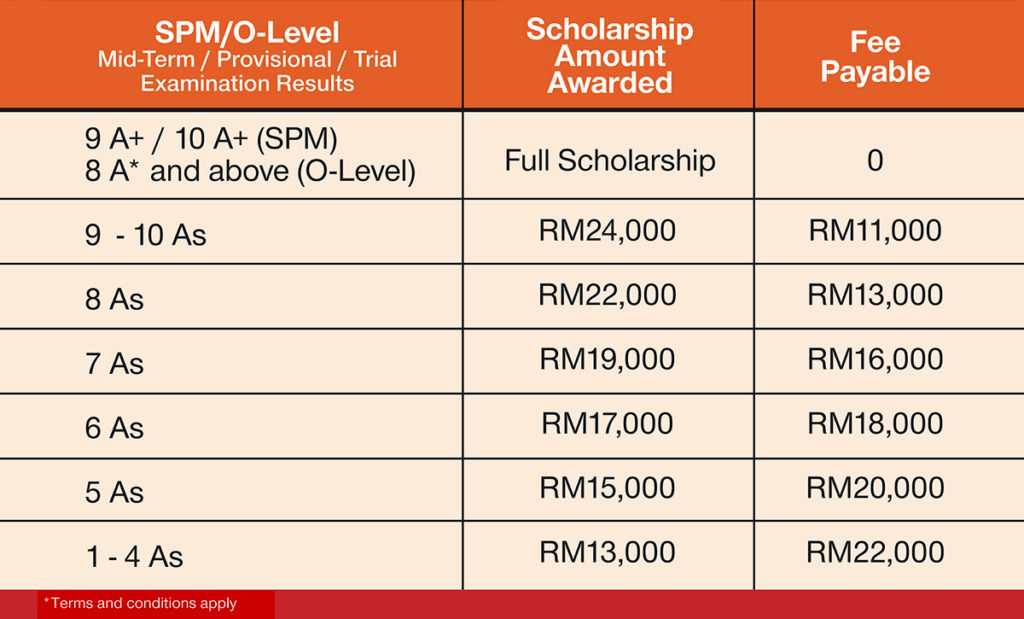 RM 35,000 (4 subjects), RM 28,000 (3 subjects)
MINIMUM 3 OR MAXIMUM 4
Mathematics

Chemistry or Law

Physics or Accounting

Biology or Economics

Further Mathematics or English Literature
100% EXTERNAL EXAMINATIONS IN 2 PHASES
Advanced Subsidiary Level (AS Level)

A2 Level
EXAMINATION SESSIONS
Applicants must have one of the following Entry requirements:
SPM / O-Level:
5 Credits (with a pass in Bahasa Melayu & Sejarah for SPM students) or equivalent qualification.
Why A-Levels @ HELP?
HELP has coached A-Level students to enter the world's top universities
Holder of the highest record 101 World Top Awards together with another 37 National Awards
Unique Pastoral Care: each student is assigned to a mentor who monitors and guides him or her on academic performance and provides advice on applications for university admission.
..and many more